About us
Background
Collections
Membership
Contact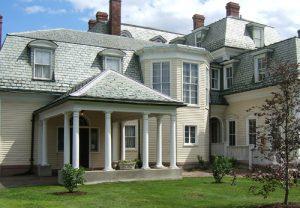 Originally the home of prominent silk manufacturer, William Skinner and his family, has stood as an example of elegance and fine architecture since 1874. The buildings and grounds were given to the City of Holyoke for cultural and educational purposes in 1959.
The museum features original leather wall coverings, columns, elaborate woodwork and an interesting tale of how two generations perceived and used the house very differently.
The museum's permanent collection includes decorative arts; paintings and prints, textiles and a rich manuscript collection of family and local papers. Wistariahurst offers a wide variety of programs and events including: workshops, concerts, lectures and demonstrations. The museum is also available for private rental and group tours.
Hours:
Grounds and gardens
are always free and open dawn until dusk.
The Carriage House Visitor's Center & Holyoke History Exhibit
is open: (Home of the famous Holyoke Frog Circus) 10 a.m. – 2 p.m. Wednesday – Friday Administrative offices are open for inquiries, program registration, deliveries, and more 9 a.m. – 5 p.m. Monday – Friday Research Archives Monday 9 a.m. to 5 p.m. & Thursday 9 a.m. to 1 p.m. or by Appointment To schedule a research appointment please email
Penni Martorell (martorellp@holyoke.org)
or call 413-322-5660 ext. 5169
Directions
From I-91 North: Take Exit 16 (Route 202/Soldier's Home exit) Bear right off the exit From I-91 South: Take Exit 16 (Route 202/Soldier's Home exit) Turn left at the end of the ramp You will be on Cherry Street–it turns into Beech Street. Proceed through 6 Traffic lights – Hillside Avenue, the Yankee Pedlar, Holyoke Hospital, Holyoke High School, Franklin Street & Sargeant Street. After the sixth light you will go through the Intersection of Hampshire and Beech Streets. Wistariahurst Museum is on the right. The building and grounds occupy an entire block; the property is surrounded by a stone wall with wrought iron fencing. There is on-street parking only. From Amherst/South Hadley: Take 116 from Amherst through South Hadley and Mount Holyoke College to Route 202 (exit sign will read Holyoke). Continue on Route 202 around the rotary to Mueller Bridge. Cross Mueller Bridge and drive directly forward onto Linden Street. Stay on Linden Street until you reach Hampshire Street. Turn left onto Hampshire Street; drive two blocks. At the stop sign take a left onto Beech Street. Wistariahurst Museum is on the right. The building and grounds occupy an entire block; the property is surrounded by a stone wall with wrought iron fencing. There is on-street parking only.
Officers and staff
Historic Holyoke at Wistariahurst (HHW) is a private, 501c(3) non-profit. The purpose of HHW is to preserve and conserve Holyoke's history; to serve as a center/resource for the history of Holyoke; to maintain Wistariahurst buildings, grounds and gardens as an asset to the City of Holyoke; to build stronger ties to the community through collaborations and partnerships with Holyoke organizations; and to develop high quality historical and cultural programs. Phyllis Barrett, Chair Frederick Waterman, Vice Chair Eileen Maginnis, Clerk James Bauer, Treasurer Maria Cartagena David Griffin, Jr. Holly Halliday Jossie Valentin (Mayoral Appointee)

Mission:
Our Mission Wistariahurst is dedicated to preserving the history of Holyoke and inspiring an appreciation of history & culture through educational programs, exhibits & special events.
Collection overview:
Wistariahurst Museum Research Archive maintains the following collections: Skinner Family Collection Textile Collection Holyoke Canoe Club Collection Holyoke Collection Holyoke City Hall Ledgers Collection Carlos Vega Collection of Latino History in Holyoke Postcard Collection Magoon Collection of Papermaking History
Become a member:
For as little as $30 annually, start enjoying the benefits of museum membership and become part of a growing community of individuals who take interest in local history, art and music! Wistariahurst, as an established resource for local memory and creative expression, provides year-round opportunities for learning, conversation, and entertainment for people of all ages. Member benefits include free house tours, discounted tickets to events, members-only events, subscription to The Vine Newsletter and a 10% discount in the Museum Gift Shop. Most importantly, your membership supports all of our culturally rich programs for youths and adults.
Donate online:
Wistariahurst is a property of the City of Holyoke, but our work is made possible by the support of Historic Holyoke at Wistariahurst. Without the support of donations big and small, we would not be able to offer the wide array of school programs, concerts, lectures, and other programs that we provide throughout the year. If you are interested in supporting Wistariahurst Museum, please consider a tax-deductible donation. Thank you for giving. Donate or become a member!
Wistariahurst Museum
238 Cabot Street
Holyoke, Mass. 01040