About us
Background
Collections
Membership
Contact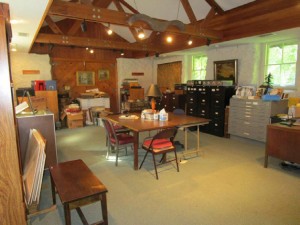 The Acton Historical Society is an organization of volunteers dedicated to the collection, preservation, and sharing of Acton's rich heritage. A 501(c)3 organization, its property at 300 Main Street in Acton includes the Jonathan Hosmer House, the Jenks Library, and a barn, all filled with artifacts, documents, and photographs that illustrate and illuminate Acton's history.
Hours:
The Jenks Library is open every Monday and Wednesday from 9-11 am, except for holidays and bad winter weather. If you will be traveling from a distance and want to confirm that someone will be there at the time you want to visit, either call ahead during the library's hours (978-264-0690) or email
jenkslibrary@verizon.net
.
Directions
The Acton Historical Society maintains the Hosmer House museum and barn and the Jenks Library at 300 Main Street (Mass. Route 27) in Acton, Massachusetts. Parking is available in the Hosmer House parking area to the right of the driveway.
Collection overview:
The Historical Society has a very large collection of photographs of buildings, businesses, scenery, and people. Most are identified and are easily available for local and family historians. Current projects include scanning the entire collection and photographing all gravestones in the cemeteries. We are also in the process of creating finding aids so that people will be able to connect with their relatives' images in our collections. Some of our wonderful pictures, unfortunately, are either completely unidentified or lacking in contextual details. We are in the process of sorting through the unlabeled photographs that have been donated to the society. Some of the pictures are likely of Acton people or their relatives and friends. Some of the people may have no connection to Acton at all. We hope to find out who these people are and what their connections are to our town. Can you help us? In addition to our photo pages, check out our blog to discover research that has been inspired by some of the photos in our collection.
Acton Historical Society
300 Main Street
Acton, Mass. 01720