William G. Fenton collection of Longmeadow postal history, 1818-1948
1 box (0.4 linear feet)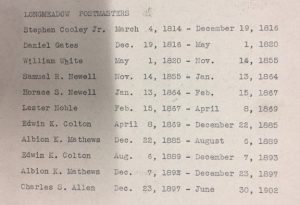 Biographical Note
William G. Fenton was a resident of East Longmeadow and a member of the Longmeadow Historical Society. Fenton worked for the U.S. Envelope Company for 44 years and retired in 1960.
Scope and Content Note
This collection consists of research notes, rough drafts, and correspondence with people Fenton thought might be able to provide him with information related to his study of the postal history of Longmeadow. Fenton's research resulted in two artfully arranged scrapbooks containing envelopes with Longmeadow cancellations, letters, several photographs of mail carriers from the early 1900s to 1940, brief histories of postmasters and post office locations, and a list of post office box holders from 1902. The scrapbooks also include a letter written by Mary Reynolds Schauffler, the American wife of the German missionary William Gottlieb Schauffler, while they were living in Turkey. Although Fenton's interest was primarily in the envelope received by Amelia Reynolds of Longmeadow, Mary's description of a plague in Turkey and general hardships is also valuable.
The collection also includes a typescript history of the first Longmeadow post office, which was in operation from 1814 to 1902. The history has biographical sketches of each of the eleven postmasters. There are also chapters on related subjects: "Post Riders and Early Colonial Posts," "Early Roads and Paths," "Stage Coaches," "The Railroad," "Longmeadow Industries," and "Early Longmeadow History." There is no evidence that his work was ever published.

Box and Folder Listing
| Folder/Item label | Date range | Box:Folder |
| --- | --- | --- |
| Collection of Pictures and Cancellations, Longmeadow, Mass | 1818-1888 | 1 |
| Postal History of Longmeadow, Mass | 1860s-1943 | 1 |
| History of the Longmeadow Post Office | 1943 | 1:1 |
| Rough drafts and notes | Undated | 1:2-3 |
| Correspondence | 1936-1950 | 1:4 |
Subjects
Missionaries--Turkey--19th century
Post office stations and branches--History
Postal service--Employees
Postal service--History
Contributors
Fenton, William G.
Schauffler, Mary Reynolds (1802-1895)
Types of material
Cancellations (stamps)
Letters (correspondence)
Photographs
Postcards
Postmarks