Longmeadow Cemetery Association records, 1858-2015
3 boxes (1.4 linear feet)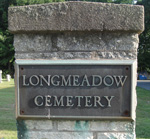 Background Note
In 1870 the "Old Burying Ground" was filled to near capacity and a meeting was called to discuss the need for more space for the growing community. On July 12, 1872 the Longmeadow Cemetery Association was formed with capital stock of $,2000 divided into equal shares of $25 each. Its purpose was the establishment and subsequent care and control of a burial place divisible into lots for individual ownership in proximity to and within the same enclosing fence with the Parish Burying Ground, yet with separate control. Some of the original members of the Association included David Booth, William G. Medlicott, Stephen T. Colton, Thomas S. Cordis, and David E. Burbank.
Scope and Content Note
The collection includes correspondence related to bequests, interments, and grounds keeping; financial statements; minutes of meetings; articles of association and rules and regulations; records of interment and information on deeds to cemetery plots. The collection also includes lists of veterans of the American Revolution and Civil War buried in the Longmeadow Cemetery, several photographs, and a copy of "The Old Burying Yard"(1976), listing those buried in the original parish grounds.
The Longmeadow Cemetery Association has held on to some of their records. Board members maintain a website that includes some burial records: http://longmeadowcemetery.org/

Box and Folder Listing
Folder/Item label
Date range
Box:Folder
History
undated
1:1
Articles of Association and Rules and regulations
1940-1967
1:2
Secretary's records
1872-1907
1
Secretary's records
1907-1953
1
Register of Deeds
1873-1969
1
"The Old Burying Yard"
1976
1
Register of Deeds
1969-2015
2
Interment book
1894-1922
2
Booth Lot
1965-1970
2:1
Correspondence relating to cemetery lots
1985-1986
2:2
Treasurer's book
1872-1875
3:1
Financial statements
1905-1963
3:2
Miscellaneous papers A-C
1891-1979
3:3
Miscellaneous papers D-F
1959-1979
3:4
Miscellaneous papers G-J
1909-1980
3:5
Miscellaneous papers K-M
1868, 1948-1980
3:6
Miscellaneous papers N-P
1942-1959
3:7
Miscellaneous papers Q-S
1954-1969
3:8
Massachusetts Society of the Sons of the Revolution
1922-1959
3:9
Miscellaneous papers
1902-1905, undated
3:10
Miscellaneous papers
1934-1985
3:11
Miscellaneous papers
1940-1941, 1970, undated
3:12
Miscellaneous papers
1858-1938
3:13
Miscellaneous papers
1884, 1958, 1976-1986, undated
3:14
Photographs
1912 and undated
3:15
Cemetery plan for "The Old Burying Yard"
1976
Oversized folder 1
Plan of Lots, Longmeadow Cemetery Association, Robert T. Bitters, engineer.
1958
Box on F1-G1
Subjects
Associations, institutions, etc.--Massachusetts
Burial
Cemeteries--Longmeadow (Mass.)
First Church in Longmeadow (Longmeadow, Mass.)
Contributors
Booth, David
Burbank, David E.
Colton, Stephen T.
Cordis, Thomas S.
Medlicott, William G.
Types of material
Burial records
Photographs