Longmeadow Historical Society institutional records, 1899-2015
14 boxes (5.8 linear feet)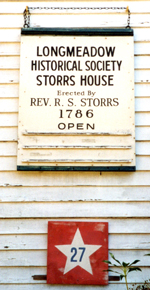 Background Note
The first organizational meeting of the Longmeadow Historical Society was held June 3, 1899. Supper was prepared by the Ladies Sewing Society, and afterwards they gathered with interested friends around an old oak "study table" that had belonged to the first minister of First Church, Reverend Stephen Williams. A display of town artifacts inspired interest as a proposed constitution and bylaws were presented. In November of that year the Society had secured papers of incorporation and had elected its first officers. The stated purpose of the society was to encourage an interest in the history of the town by providing lectures, and collecting papers, furniture, and articles illustrating town life in past times. Dues were 50 cents per year.
The first exhibition sponsored by the Society took place in October of 1899. Besides special Longmeadow artifacts, it included a reproduction of an old kitchen with fireplace and spinning wheel. At its first annual meeting on October 31st, three ladies presented papers on historical subjects: Mrs. McQueen spoke on "Longmeadow of the Past;" Mrs. S.E. Meacham on "Old Home Life in New England;" and Mrs. C.S. Gates on "Legendry, Lore, and Superstition." Members voted at that meeting to lend the society's support to Memorial Day observances. In 1907 Miss Sarah Storrs, a descendent of Longmeadow's second minister, the Rev. Richard Salter Storrs, died and left all her real estate and some money to be used to establish a library. The real estate included the historic Storrs homestead, which was built in about 1786.
In 1932 when the Storrs Library Association decided to build a new library, it offered the use of Storrs House to the Historical Society on the condition that the society restore, repair, and maintain it. The house was moved twelve feet to the south and about thirty feet back to make room for the library. In the process it was provided with a new foundation but lost its front porch, a glassed porch on the south side and two additions.
Since that time the Society has continued to encourage an interest in Longmeadow's past through a variety of programs, events, and exhibits. Long Meddowe Days, a community fair focusing on history first held in 1979, is the primary fundraising event for the Society. Rooms and exhibits at Storrs House draw from the Society's holdings to shed light on various periods of Longmeadow's past. The Society also gives tours of the house, sponsors talks, and hosts "Ghosts in the Graveyard," an evening tour of Longmeadow's old burying ground at First Church, which includes dramatizations of former citizens. In addition to assisting those with inquiries about people or events associated with Longmeadow's history, the Society also provides additional resources through its website with links to digitized materials including the Reverend Stephen Williams diaries; Town Reports; past copies of the "Town Crier," the Society's newsletter; Paesiello Emerson photographs; and genealogies.
Scope and Content Note
The Longmeadow Historical Society's institutional archives document the Society's efforts in preservation and outreach. Materials include minutes, guest books, Treasurer's reports and records, papers relating to several past Presidents of the Society, Historian's Reports, publications, and photographs. Papers related to Long Meddowe Days include: programs, committee lists, minutes, bills and expense information, and newspaper clippings. Of particular interest are the yearly Historian's Reports (1908-1959), which include not only information on past Longmeadow families and homes, but also touch upon significant events of the preceding year. These include recent deaths, the 1938 hurricane, World War II, local real estate developments and public works. The Society's newsletters and publications provide insight into the various programs and outreach undertaken by the Society.

Box and Folder Listing
| Folder/Item label | Date range | Box:Folder |
| --- | --- | --- |
| Minutes | 1899-1961 | 1 |
| Minutes | 1961-1981 | 1 |
| Minutes, Board of Directors | 1908-1937 | 1 |
| Minutes | 1981-1989 | 2 |
| Minutes | 1990-1996 | 2 |
| Minutes | 1995-1999 | 2:1 |
| Origins of the L.H.S, papers and notes | undated | 3:1 |
| Historian's Reports | 1908-1959 | 3:2 |
| Historian's notes and papers | undated | 3:3 |
| Newspaper clippings | 1930-2013 | 3:4 |
| Newspaper clippings and advertising | circa 1931-1989 | 3:5 |
| Membership: dues paid | 1899-1908 | 3:6 |
| Membership lists | 1964, 1967, 1969, 1979 | 3:7 |
| Membership cards | circa 1965-1978 | 3:8 |
| Professional Associations: Bay State Historical League correspondence, bulletins, and miscellaneous papers | 1959-1985 | 3:9 |
| Professional Associations: Western Massachusetts Historical Society Buletins | 1955 | 3:10 |
| Invoice from Conway, dealer in pianos and organs | 1903 | 4:1 |
| Receipts and payments | 1936-1958 | 4 |
| Checkbook | 1942-1954 | 4 |
| Treasurer's book | 1958-1964 | 4 |
| Financial statements | 1978-1988 | 4:2 |
| Treasurer's reports | 1995-1998 | 4:3 |
| Presidents: Robert McTaggart and George Heckman | 1967-1979 | 5:1 |
| Presidents: Timothy Paige | 1979-1980 | 5:2 |
| Presidents: June Guild | 1981-1982 | 5:3 |
| Presidents: Charles Wilkinson | 1983-1984 | 5:4-5 |
| Presidents: Brewster Sturtevant | 1985-1987 | 5:6 |
| Storrs House:Storrs Library Property (photocopies) | 1931-1986 | 6:1 |
| Storrs House: unpublished histories | undated | 6:2 |
| Storrs House: Colonial Homes magazine | 1992 | 6:3 |
| Storrs House: Homestead View Company set of mounted photographs of house, grounds and views | circa 1890s | 6:4 |
| Storrs House: photographs of exterior | undated | 6:5-6 |
| Storrs House: interior photographs | 1986, undated | 6:7 |
| Storrs House: photographs of exhibits and tours | 1983,1985 | 6:8 |
| Storrs House: photographs of Christmas decorations | 1995 | 6:9 |
| Storrs House: photograph of Longmeadow Historical Society members enacting a 1783 dinner party, including two in black face. | 1908 | 6:10 |
| Storrs House: restorations and repairs | 1990-1991 | 6:11 |
| Storrs House: drawings for proposed additions | 1968-1969 | Oversized folder 3 |
| Guest book | 1921-1948 | 7 |
| Guest book | 1949-1957 | 7 |
| Guest book | 1958-1961 | 7 |
| Guest book | 1967-1973 | 7 |
| Guest book | 1973-1988 | 7 |
| Board sign-in book | 1974-1990 | 7 |
| Board sign-in book | 1991-2005 | 7 |
| Board sign-in book | 2005-2015 | 7 |
| Ledger of items borrowed and returned | 1988-2013 | 7 |
| Publications: The Town Crier | 1912 | 8:1 |
| Publications: The Town Crier manuscripts and related materials | 1912 | 8:2 |
| Publications: The Town Crier typescript copy | 1912 | 8:3 |
| Publications: Meadow Crier | 1975 | 8:4 |
| Publications: The Long Meddowe Recorder | 1981-1985 | 8:5 |
| Publications: newsletter | 1999-2001 | 8:6 |
| Publications: The Town Crier | 2002-2007 | 8:7 |
| Publications: The Town Crier | 2008-2015 | 8:8 |
| Publications: brochures | 1908-1994, undated | 8:9 |
| Publications: booklets | 1988-1994, undated | 8:10 |
| Publications: Reflections of Longmeadow photographs used in book | circa 1983, undated | 9:1 |
| Publications: Reflections of Longmeadow documents and correspondence | 1983-1998 | 9:2 |
| Publications: Reflections of Longmeadow drafts | circa 1983 | 9:3 |
| Publications: Reflections of Longmeadow drafts | circa 1983 | 9:4 |
| Publications: Reflections of Longmeadow drafts | circa 1983 | 9:5 |
| Publications: Reflections of Longmeadow, second printing | 1998 | 9 |
| Long Meddowe Days | 1979-1980 | 10 |
| Long Meddowe Days | 1979-1980 | 10 |
| Long Meddowe Days | 1981 | 10 |
| Long Meddowe Days: photographs | 1981 | 10 |
| Long Meddowe Days: photographs | undated | 10:1 |
| Long Meddowe Days | 1983 | 11:1-4 |
| Long Meddowe Days | 1984 | 11:5 |
| Long Meddowe Days | 1984 | 12:1 |
| Long Meddowe Days | 1985 | 12:2 |
| Long Meddowe Days | 1986 | 12:3 |
| Long Meddowe Days | 1987 | 12:4 |
| Long Meddowe Days | 1987-1993 | 12:5 |
| Long Meddowe Days | 1988 | 13:1 |
| Long Meddowe Days | 1989 | 13:2 |
| Long Meddowe Days | 1990 | 13:3 |
| Long Meddowe Days | 1990 | 13 |
| Long Meddowe Days | 1991 | 13:4 |
| Long Meddowe Days | 1992 | 14:1 |
| Long Meddowe Days | 1993 | 14:2 |
| Long Meddowe Days | 1994 | 14:3 |
| Long Meddowe Days | 1995 | 14:4 |
| Long Meddowe Days | 1996 | 14:5 |
| Long Meddowe Days | 1997 | 14:6 |
| Long Meddowe Days | 1998 | 14:7 |
| Long Meddowe Days: papers collected by treasurer Philip N. Clark | 1989-1998 | 14:8-9 |
| Long Meddowe Days | 1999 | 14:10 |
| Long Meddowe Days | 2000 | 14:11 |
| Long Meddowe Days | 2003 | 14:12 |
| Long Meddowe Days: poster | 2003 | Oversized folder 3 |
| Long Meddowe Days | 2013 | 14:13 |
Subjects
Celebrations--Massachusetts--Longmeadow
History--Societies, etc.
Longmeadow (Mass.)--Centennial celebrations, etc.
Longmeadow (Mass.)--History
Types of material
Minutes (Records)
Newsletters
Photographs